Don't lose money when you sell your Scarborough condo.
Our focus and experience in selling Scarborough condos means our buyers find the right buyer, get more money, in the quickest amount of time.
In order to attract the most number of buyers to see your property so that it can sell at the highest price, we have fine tuned an aggressive Condo Marketing Plan that you can use for your benefit. This marketing plan will ensure you get maximum exposure, help you find qualified buyers, and sell your property for the highest price.
A Comprehensive Condo Marketing Plan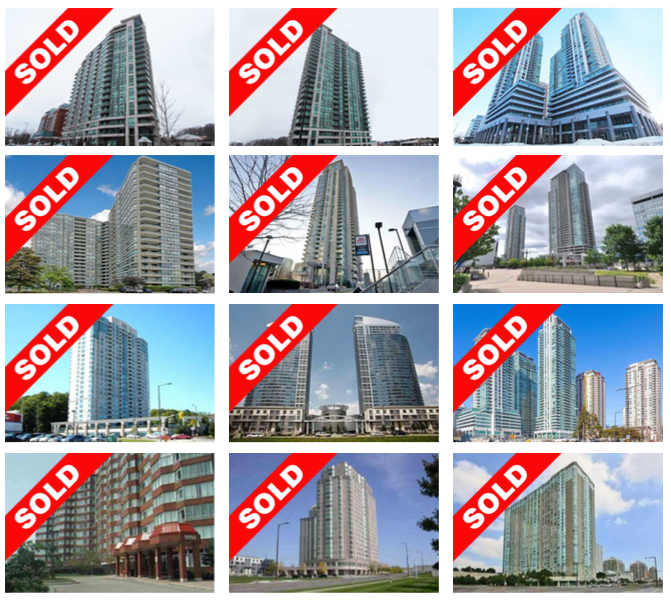 Free Online Market Consultation
Listing your property for sale starts with a free market consultation. I will review information with you including recent property sales and listings currently available for sale in your neighbourhood. If you have any questions, I'll provide you with the answers and any additional information you need to know to make a confident and informed decision about selling your property.
Professional Condo Staging
Showcasing your property starts with how it looks to potential buyers. Professional condo staging can add thousands of dollars to your eventual selling price. This will give you the benefit of earning more money from the sale of your property. How a buyer perceives your condo makes a difference in how much they decide it's worth, and how much they will pay for it. Professional condo staging adds perceived value to your property and will result in a higher selling price.
High Definition Digital Photography
Before buyers see your property in person, the first impression they get is when they see the listing on the internet. Sadly, some real estate salespeople settle with taking photos from their smart phone or camera without seeking professional service. I invest in hiring full time digital photographers who specialize in photographing real estate. They are experienced when it comes to showcasing your property, and possess the tools that will give potential buyers a lasting first time impression making them eager and excited to see your condo.
High Definition Video
Video has become very popular in real estate marketing today. Why just settle for photographs when you can stimulate the emotions of condo buyers with a professional shot and edited high definition video of your property? With a team of videographers, we will create a video profile of your property and the neighbourhood to share with potential condo buyers. This will entice them to see your condo and get a sense of value leading to a higher perceived worth of your condo.
Toronto MLS Listing
Your property will be listed on the Toronto MLS which has a membership of over 40,000 real estate professionals throughout the Greater Toronto Area. Chances are, if one of them is working with a buyer specifically looking for your condo, we'll find them. More often than not, multiple buyers are looking for condos in the same area and this is what creates a multiple offer situation or 'bidding war.' When your property is listed on the Toronto MLS, real estate professionals working with buyers will instantly see your property and inquire about it.
Realtor.ca Listing
Beyond the local real estate board listing, your property will be showcased nationally and internationally via Realtor.ca. Potential condo buyers from across the country, and worldwide, will see your listing with its professional photographs, video, virtual tour and property information. The more buyers we reach, the higher we'll be able to sell your property.
RE/MAX.ca and RE/MAX International Listings
RE/MAX is unparalleled when it comes to marketing. In fact, the number of visitors going to the RE/MAX network of websites alone surpassed Realtor.ca and all competing real estate brands' websites. What does this mean for you? Maximum exposure, more potential buyers, and a higher selling price. Why risk losing internet exposure and attracting the most number of buyers by working with another real estate company. Put your confidence in RE/MAX's extensive marketing program to get you the most exposure, guaranteed.*
Customized Property Website
Some real estate salespeople list your condo and stop at that. I take it several steps further. Your property will have its own customized website with property information, photos, videos, neighbourhood amenities, demographics, and a contact form so that potential buyers can contact us directly. When listing your condo and interviewing real estate agents, ask them if they are willing to do this for you. When you list with me, a custom property website comes standard so you can attract more buyers and get the price you want.
High Quality Showcase Property Brochure
It's in the details that leave lasting impressions on condo buyers. When buyers visit your property, they will receive a high quality showcase property brochure they can take with them. This reminds them about what your property has to offer and what makes it so unique. Have you gone to look at houses just to see black and white "MLS" printouts with just one property photo and just a bunch of data? Any real estate salesperson can do that. I take marketing to a higher level by producing high quality marketing materials that will give a better impression of your condo so that when it comes time for a buyer to choose, they'll have your property in hand and be enticed to make an offer on it.
Toronto's #1 Real Estate Network
You can list your condo with any RE/MAX office and achieve great results, but listing with RE/MAX Hallmark ensures your property is marketed to the world's #1 real estate network. RE/MAX Hallmark is the world's #1 real estate brokerage* with over 1,300 full time real estate professionals actively working with buyers. Once you list with Scarborough Condos, the world's #1 real estate network will instantly know that your condo is available. Chances are, we may find a buyer directly for your condo in less time so you can make your move faster.
Targeted Facebook Campaign
We're not talking about targeting your Facebook friends. We're talking about targeting Facebook users who live in your neighbourhood. Why? Chances are, they may know friends and family who want to move in a condo near them. Using digital marketing strategies, we will create a highly targeted Facebook campaign to attract people living in your neighbourhood, bring them to your customized property website, and let them share your property listing with their friends. The more potential buyers we reach, the higher the selling price you'll get. So why work with someone who won't do all this for you? When you work with me, this comes standard with your listing.
Targeted Google AdWords Campaign
Potential buyers are going to Google to search for condos in your neighbourhood. I've got proof, and I can show it to you. I can even show you exactly how many potential buyers are looking for condos in your area per month. Let's reach out to them. With a targeted Google AdWords campaign, we'll be in the eyes of potential buyers who are proactively looking for condos in your neighbourhood. Let's attract these buyers and bring them to your customized property website so that we can get them to make an offer for your condo.
"Follow Me" Ad Campaign
Imagine if a potential buyer sees your listing online and visits the customized website. Let's say they left the website to browse for more condos. Meanwhile, as they browse on other websites, imagine if they received a constant reminder about your condo. Sounds like magic? Not really. Savvy internet marketers (such as me) can do this for you. Using digital marketing strategies, we will remind potential buyers about your condo even after they've left your customized website. As they browse online and even if they aren't looking at real estate listings, they'll see an advertisement for your condo. These ads will even run on popular websites that you may use on a daily basis. Let's keep reminding buyers about what your condo has to offer and let the marketing follow them. Didn't I mention I take marketing to a higher level?
Direct Mail Campaign
Traditional marketing isn't dead. And if your real estate salesperson can't afford to send direct mail pieces to at least 1,000 or 2,000 condos in your area, you should ask why. When I list your condo, I will send a direct mail campaign to your area because condo owners living near you may know friends or family looking to buy. Unlike advertising campaigns that just promote the real estate salesperson with their big headshot and quirky marketing slogans, my direct mail marketing focuses on just one thing: promoting your listing.
Condo Warranty Program
Worried about your condo buyers chasing after you when something goes wrong with your appliances or other things in your house? Forget about it. I'll eliminate your stress by providing a condo warranty program on the sale of your property. This condo warranty program covers the appliances and essential equipment on your property. If something goes wrong with them after closing, you won't hear from the buyers nor your lawyer. The condo warranty program will take care of the buyers long after you've moved out.
100% Satisfaction Guarantee
I offer you a complete marketing plan backed by my personal 100% satisfaction guarantee. If you do not get the highest price for your property and if you are not satisfied by my marketing plan and services, you do not pay for my services. I back this up with an easy cancellation guarantee that does not lock you in for a year if you change your mind about working with me. There's no risk to you to avail of my services.
Ready to sell your Scarborough condo?
Start by reading my free guide: How to Sell Your Condo.
*By total production of all RE/MAX Hallmark brokerages.